Product Name:
120W LED Aquarium Light
Product ID:
LH-A1120W
Power:
120W
LED Quantity:
112x1W High Quality LED

Size:
40x21.2x6.2cm
LEDs Wavelength :

Blue 475nm + 430nm
White 4500k

Lumens:
≥4200 Lm

Approved:
CE & RoHS

Input Voltage :
AC85~265V
Equal to:
400-500w HPS/MH,save 80% power consumption
Warranty:
3 years

Lifespan:
50,000 Hours
Working Temperature:
-35℃~55℃
Working Humidity:
10%~90%RH
Storage Conditioner:
-40℃~58℃
PC/CTN:
1PCS
Packing:
Carton
Built-in 3 cooling fans, unique heat sink

Built-in hanging hardware, easy to set up in minutes, Plug N Play.
Customized items with color spectrum optional: Red: 660nm + 630nm, Blue: 475nm + 430nm, Orange: 615nm, White: 4500k, IR, UV
Package Includes:
1x LED panel light
1x Power Cord
1x Hanging Kit
Product Features:
1)Use high efficient 1w LED as the light source, Based on 112x 1W high power LEDs.
2)Wide beam angle: 90/120 degree.
3)Unique heat dissipation device: thermostatically controlled fans to keep LED light cool.
4)Built-in Power supply, plug and play.
5)Environment-friendly: no mercury and other harmful heavy metal.
6)CE and RoHs approval.
Advantage:
1) The aquarium light has perfect effect on your coral, reef and other plants growing in water.
2) Powerful 120W LED Aquarium Light, High efficiency, save 85% power consumption.
3) Daylight & Moonlight combined in one unit, unique design, high quality, light and beautiful.
4) Use built-in switching mode 97% efficiency power supply, no need ballast as MH and fluorescent which will inefficient and burnout finally.
5) LED is cold lighting that produce much less heat and 3 built-in cooling fans help cool down the lamp very well.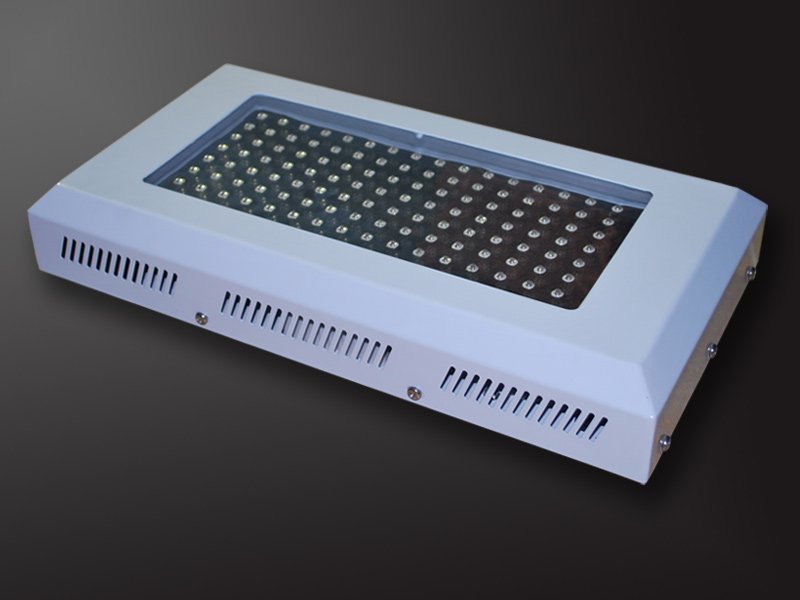 | | | | | |
| --- | --- | --- | --- | --- |
| Lamp types | LED Grow Panel | Incandescent Lamp | Fluorescent Lamp | Metal Halide |
| Visible light radiation energy | 10%-12% | 5% | 23% | 27% |
| Infrared radiation energy | 0% | 90% | 36% | 17% |
| UV radiation energy | 0% | 0% | 0% | 19% |
| Physiological effective energy | 10%-12% | ≤0.1% | ≤1% | ≤0.5% |
| Value | Most Suitable | Not Most Suitable | Not More Suitable | Not Suitable |